Montpellier, the best coffee shops
Montpellier is France's seventh largest city. With half a dozen universities the fraction of students here is not small. That's probably also the reason that it ranks quite high in the number of coffee shops, especially English speaking ones. English speaking is a rarity on the French mainland, however, other than the language, these five coffee shops are not what one would expect of a coffee shops in a student town.
Article from European Coffee Trips
Extra Shot is the sole one that offers Wi-Fi (or a Chemex brew). Café BUN is Montpellier's exclusive roaster and compliments the scarce filter coffee scene with AeroPress. Coldrip, an Australian type of café, represents Scandinavian light roasts. Coffee Club has the most diverse English speaking baristas. Lastly, Bonobo, Montpellier's newest hit, has unintentionally turned into more of a sophisticated restaurant.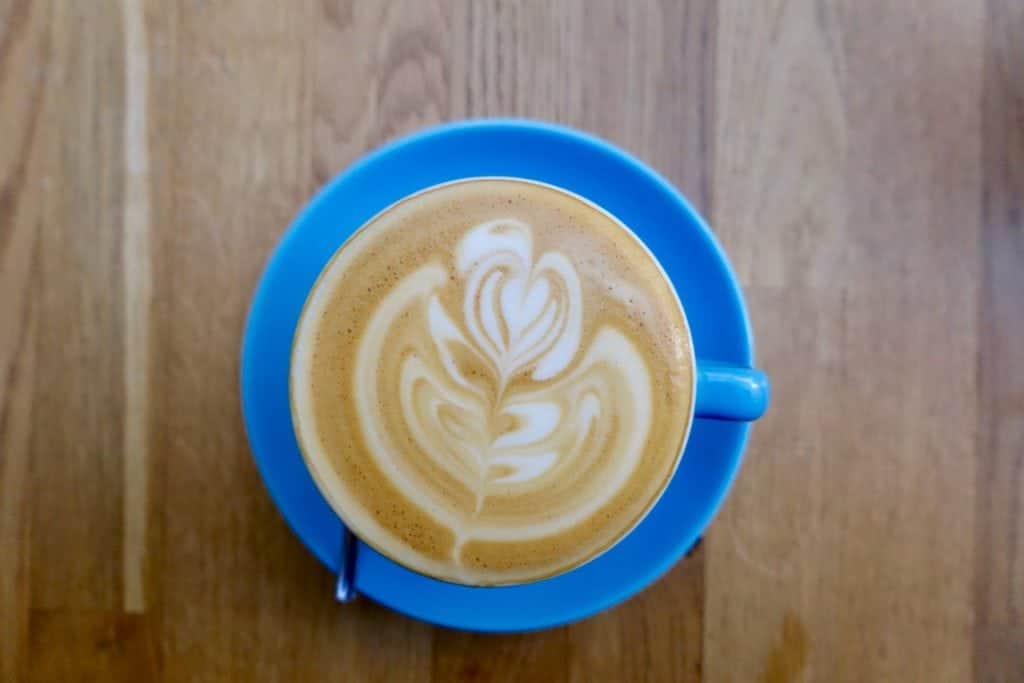 Extra Shot
Since January of 2017 Extra Shot is the only coffee shop in Montpellier where students can work with Wi-Fi. Guillaume (Geo) Le Coz, the owner and barista, originally comes from Brittany, France and moved to Montpellier for his own studies. Then he relocated to London, where he started working as a barista in the French bakery chain PAUL. But the metropolis' "real" coffee scene is what moulded him there.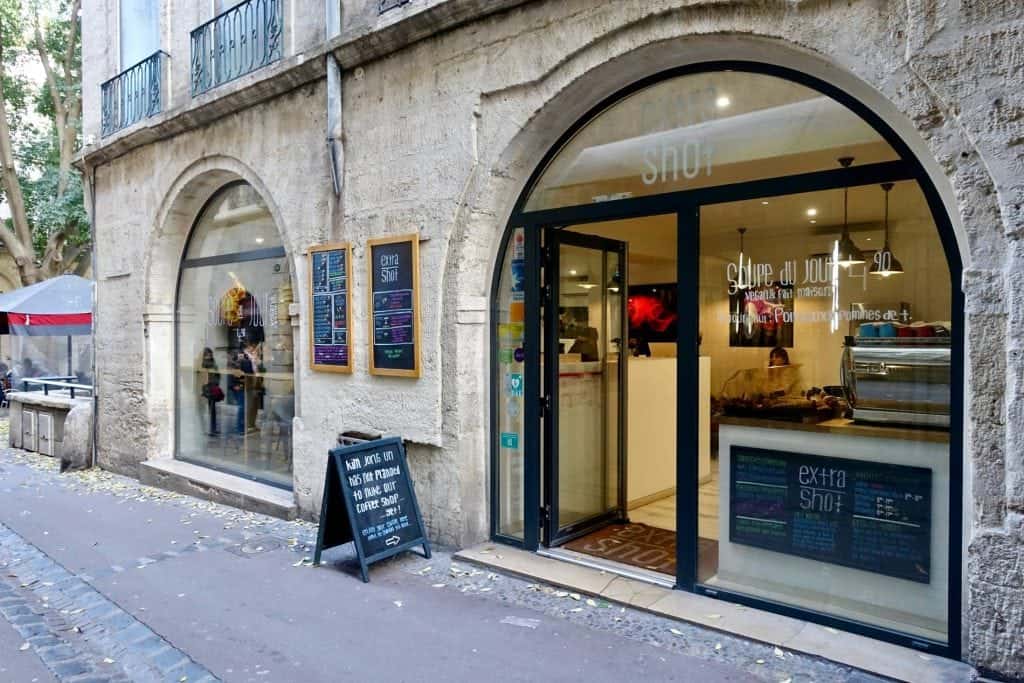 Geo used his opportunities and connections in London. He even competed against London's pros in a barista competition. "I really liked it. Obviously the score wasn't amazing but it was a very nice experience meeting a lot of people. I got more interested in what coffee was."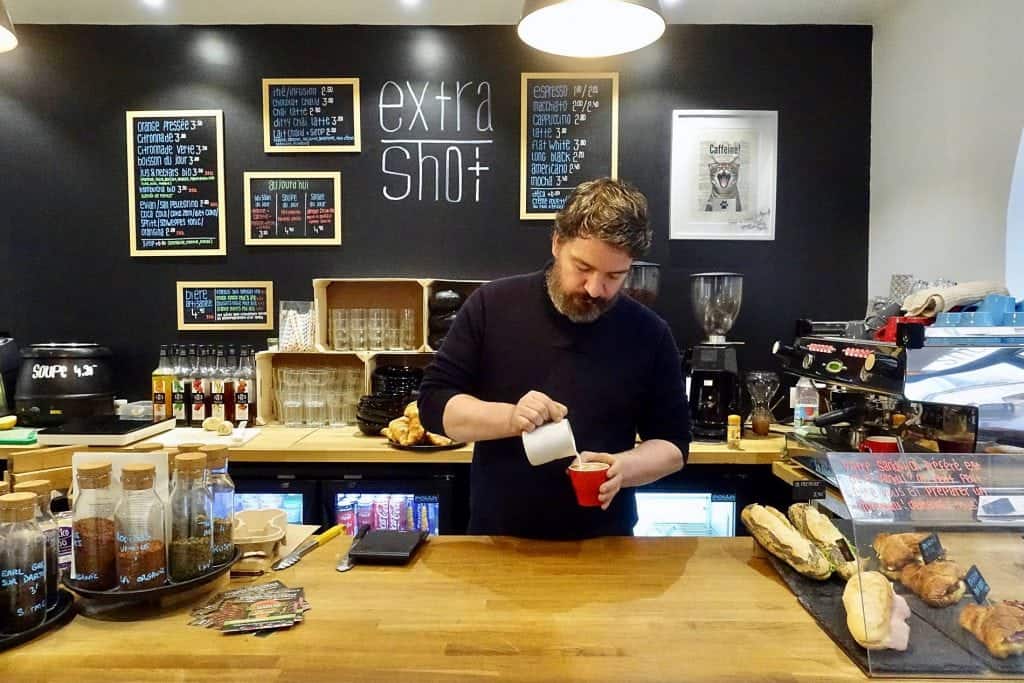 He had long dreamed of opening his own business, however with London's "overcrowded coffee scene" he decided to come back to his student town. Now Geo uses his English knowledge, combined with French heritage and his girlfriend's Scandinavian style to create a minimalistic and bright work space with superb coffee. You can choose between filter coffee brewed with a Chemex, and two different espresso roasts, all from the local roastery BUN.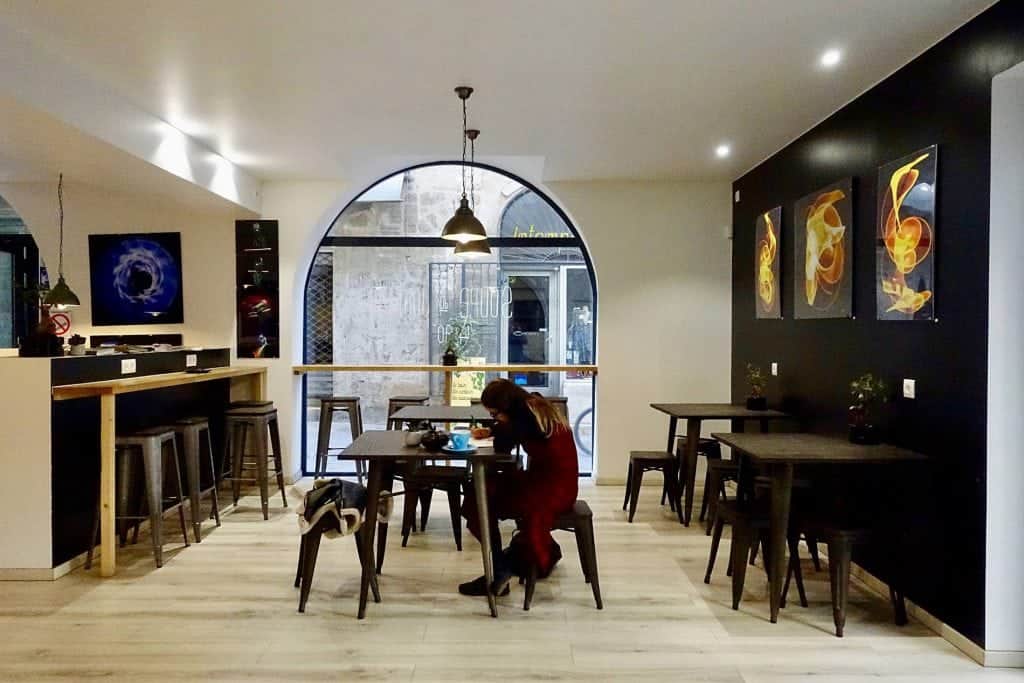 44, rue de l'Aiguillerie, 34000 Montpellier, France
Website, Facebook, Instagram, Twitter
Café BUN
Quantum physicist, Luc Béaur, has always been a home barista with a passion for high quality coffee. When he lived in Paris, he was introduced to specialty coffee through Telescope and Coutume. The latter is where he did an official training with Antoine, to then become Montpellier's specialty coffee pioneer in 2013.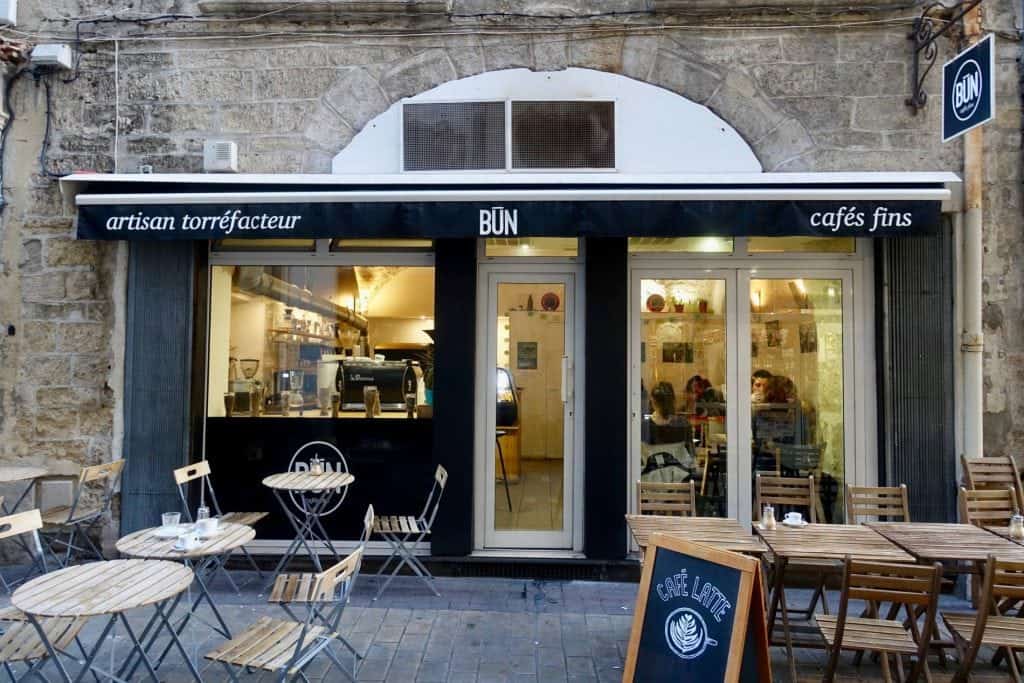 Now, almost five years later, more coffee shops have opened, however Café BUN is still the only one to roast their own coffee. You can buy all six of his single origin roasts on site. In the coffee shop, the baristas typically use a Brazilian roast for the espresso based drinks and a fruitier type (often from Ethiopia or Tanzania) in the AeroPress. The menu is kept simple, and local-oriented. You won't read flat white or cortado. Still that doesn't mean that he can't make it—just ask!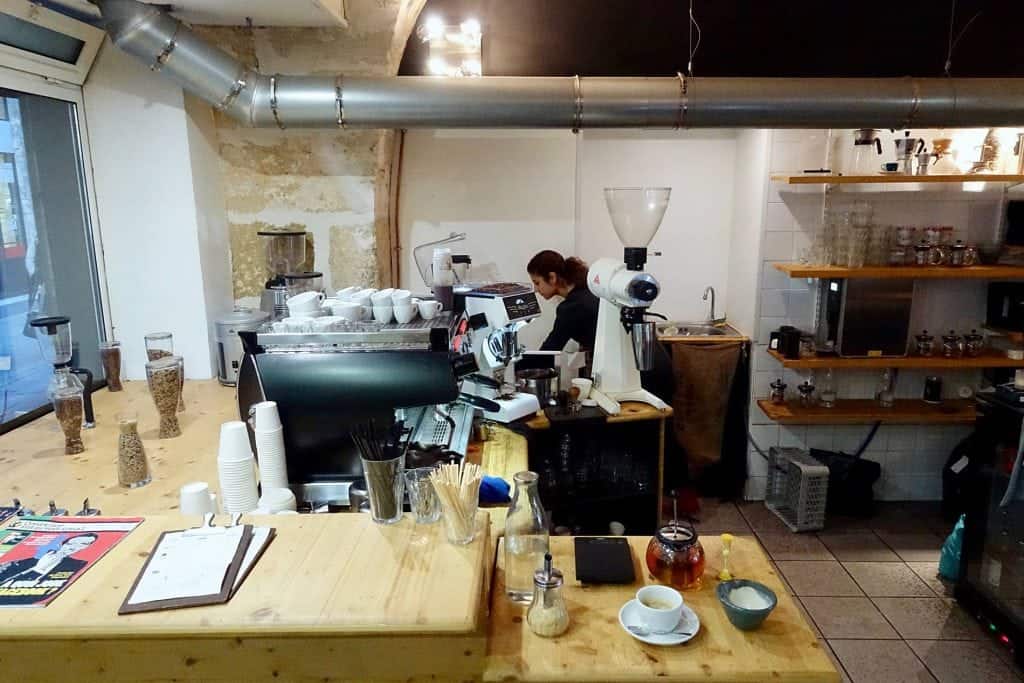 Café BUN has an amazingly mixed clientele for a specialty coffee shop. The interior is simple and unpretentious, which welcomes every type of person—tourists with kids, old couples as well as students with headphones solving math problems. Thus, no-one can go wrong if choosing Café BUN in Montpellier!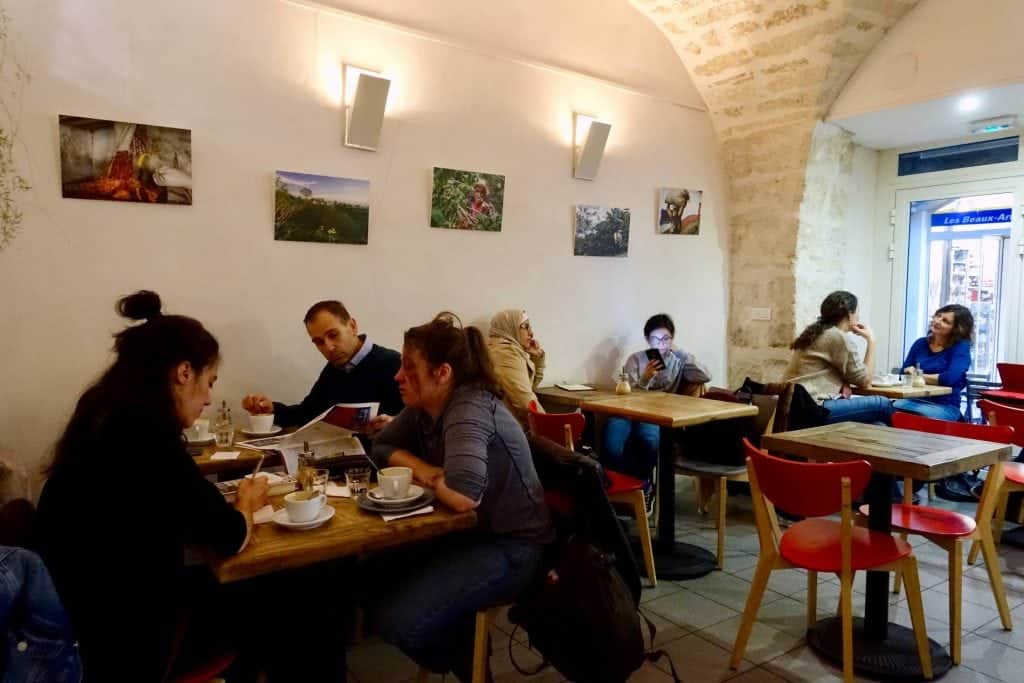 05 rue des Etuves, 34000 Montpellier, France
Facebook, Instagram
Coldrip
At Coldrip you'll get Europe's top specialty coffee roasts next to splendid Australian breakfasts. Kaleigh Philip from New Zealand became a barista at the age of 17. Her husband Sam Philip has been a cook in Montpellier since the same age. They met in Australia, which is also where they got immersed into the café scene that offered "great coffee, great food and great vibes all day long". Back in Sam's hometown, Montpellier, opening a place like this was something special. Plus, it let them have free evenings with their little kid.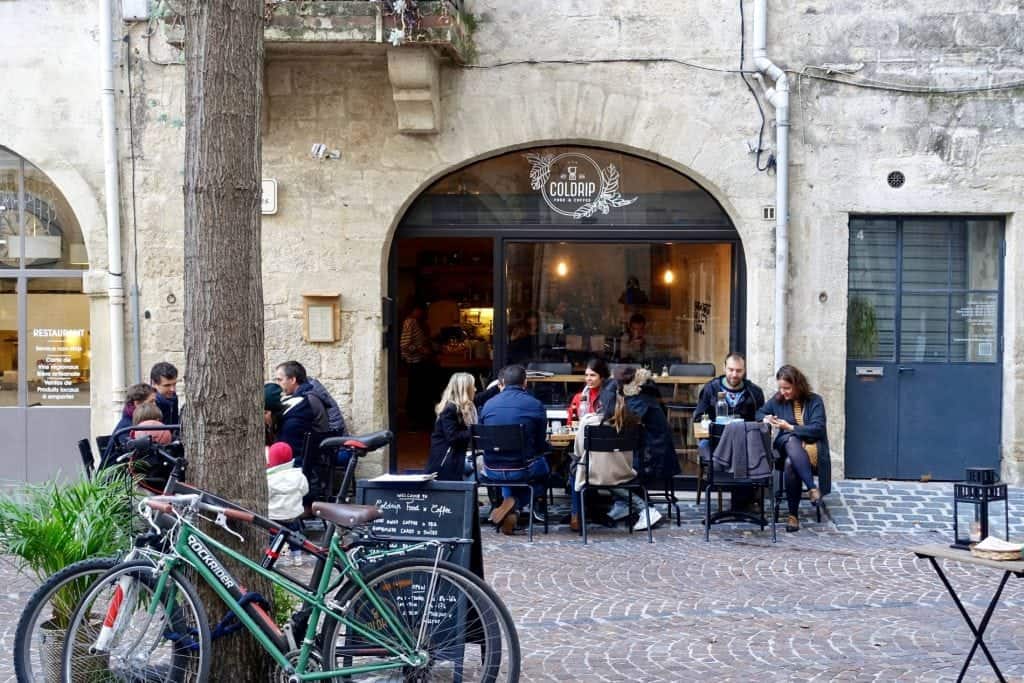 Since September 2016 Coldrip has quickly become a hotspot for all English speaking folks in town. Here, they only offer espresso based drinks, brewed with two different roasts, depending if you choose a milk drink or espresso by itself. Usually you'll get Scandinavian roasts, like April from Copenhagen. However they have also worked with Bellevilles' from Paris and Five Elephant from Berlin.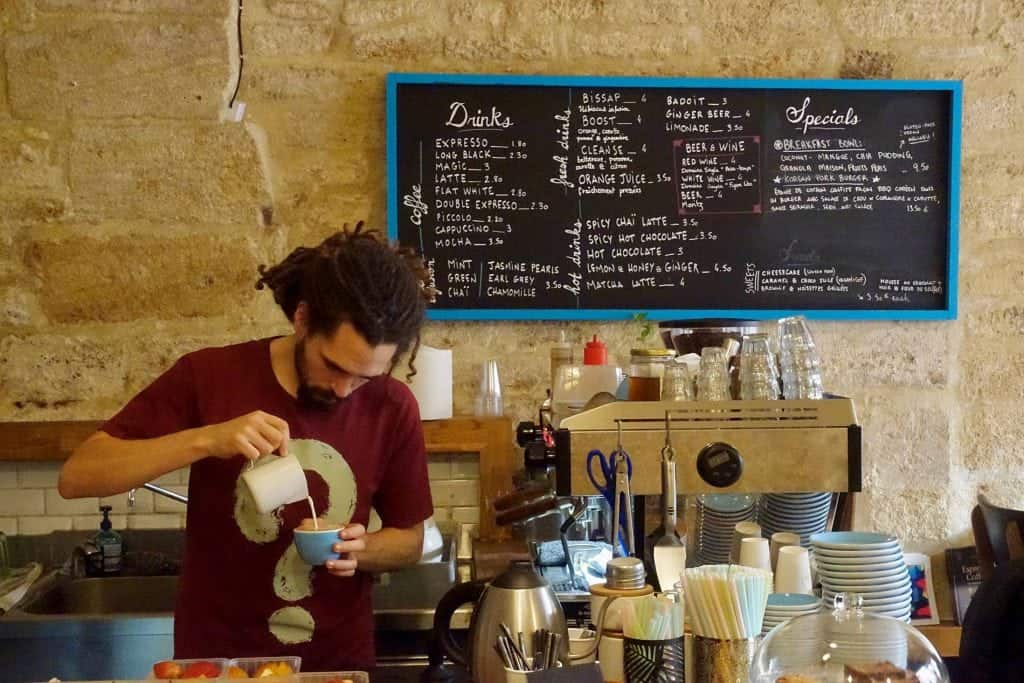 Next to the coffee, many guests—especially Instagram-affine tourists—come to Coldrip for their scrumptious breakfasts. I recommend both. Be emerged in Montpellier's old stone walls while eating lavish avocado toasts and sipping on flat whites.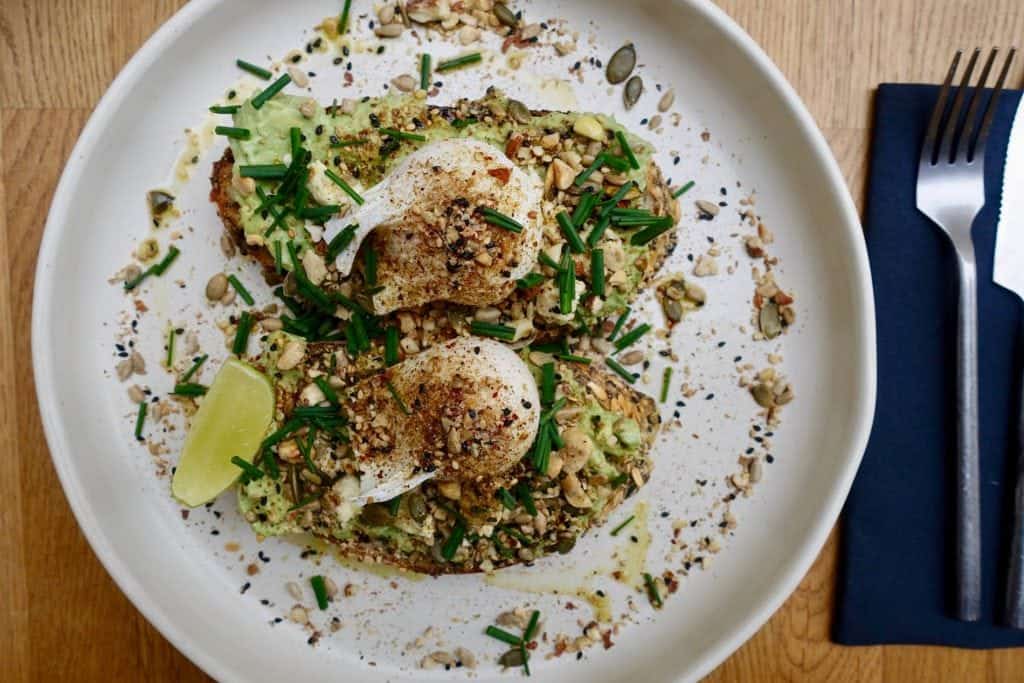 Coffee Club
Coffee Club, tied with Café BUN, was one of Montpellier's first third wave coffee shops. Nicholas (Nick) Breedon, from Manchester, has lived in Montpellier for thirteen years now. He actually never liked coffee much, but once he visited his brother in London that changed.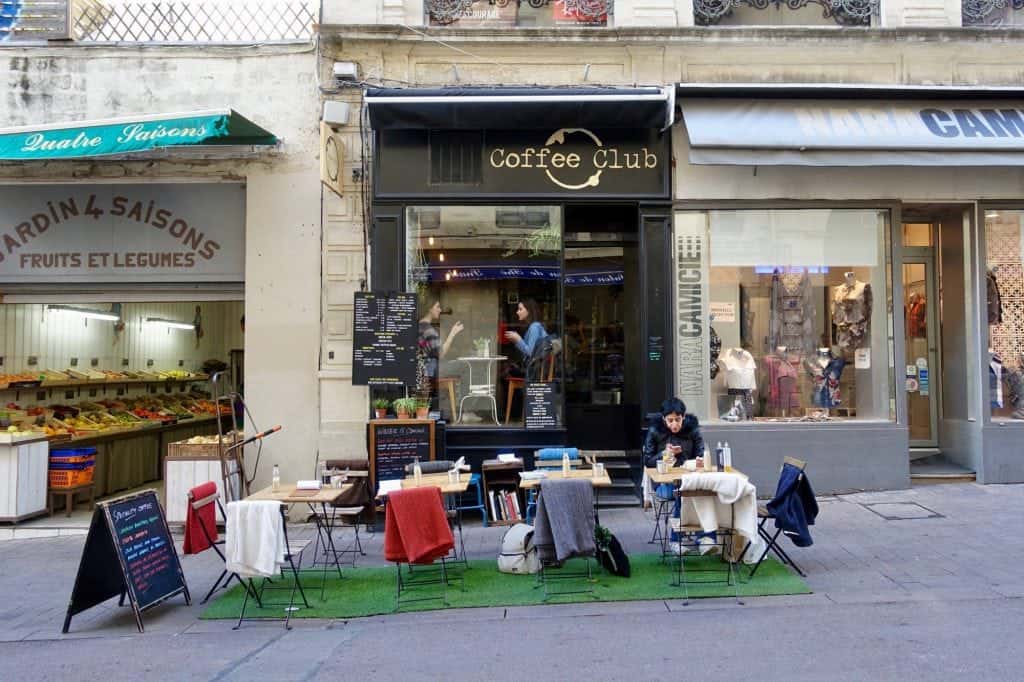 After being a salesman many years, it was time to change occupations. Moxka in Lyon as well as Kaffeine in London taught him his first barista basics. Then he bought his own espresso machine and practiced daily at home, until he was ready to invest in his first coffee niche in Montpellier: Coffee Club.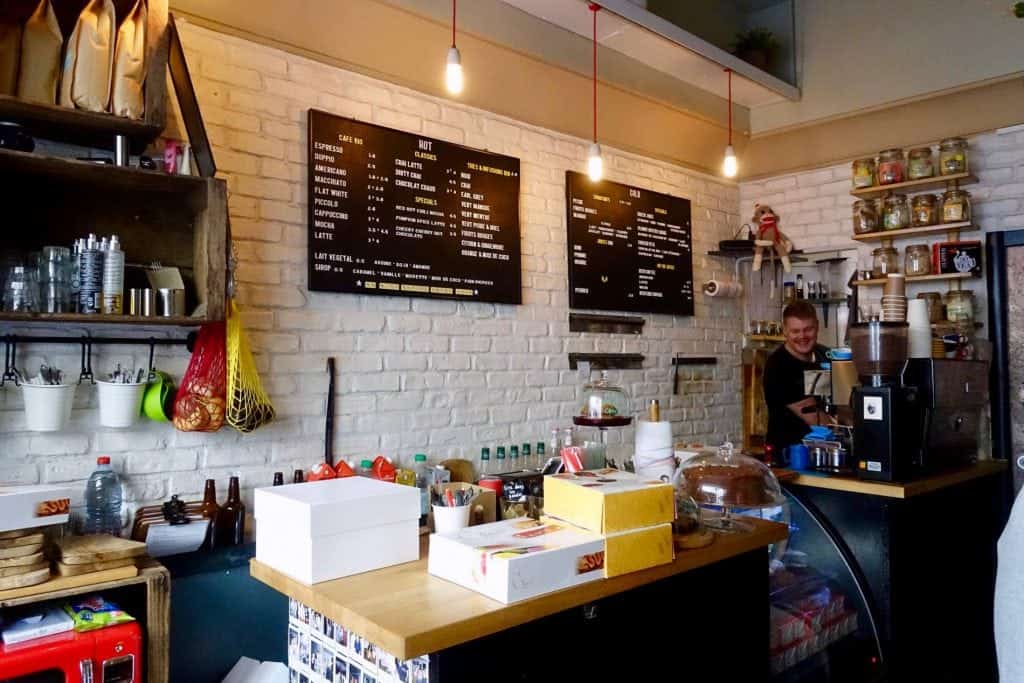 Turning a tiny coffee shop into something welcoming and cozy wasn't easy, but Nick travelled lots with his eyes wide open. Coffee Club is influenced by Kaffeine's interior in London. It literally fits no more than eight people. However thanks to this, customers have turned into baristas as well as family. What started as a one-barista coffee shop (by Nick), is now co-represented by Michelle from Australia, Josh from New Zealand and Veronika from Luxembourg.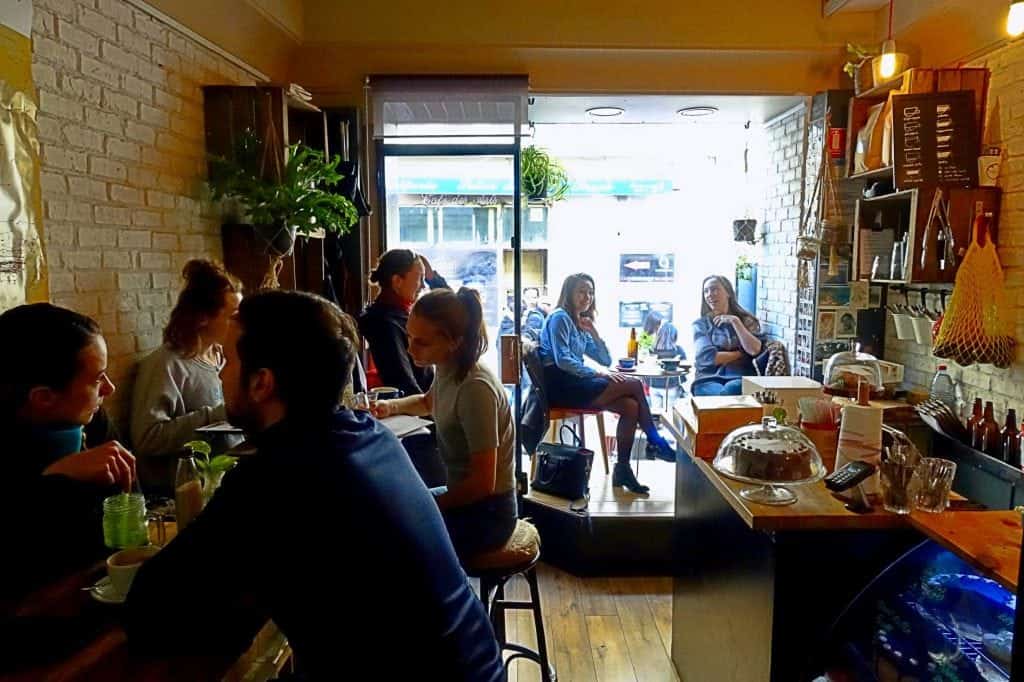 The lack of space also results in only one grinder. The roasts varie every few months, but usually have a medium profile. Nick wanted to find something roasted as locally as possible, that uses the same green beans as Coutume in Paris does, since he thinks highly of the capital's roasters. Dominique Tumbuka, a roaster from Pont du Gard, was the solution. For almost five years now, she has done a perfect job for Coffee Club.
12 rue Saint Guilhem, 34000Montpellier, France
Facebook, Instagram
Bonobo
Bonobo, is Nick's second coffee shop. After successfully establishing Coffee Club, he was ready to find a larger space with a new concept. Together with his girlfriend Gemma (also a former Coffee Club customer) he opened Bonobo in September 2017.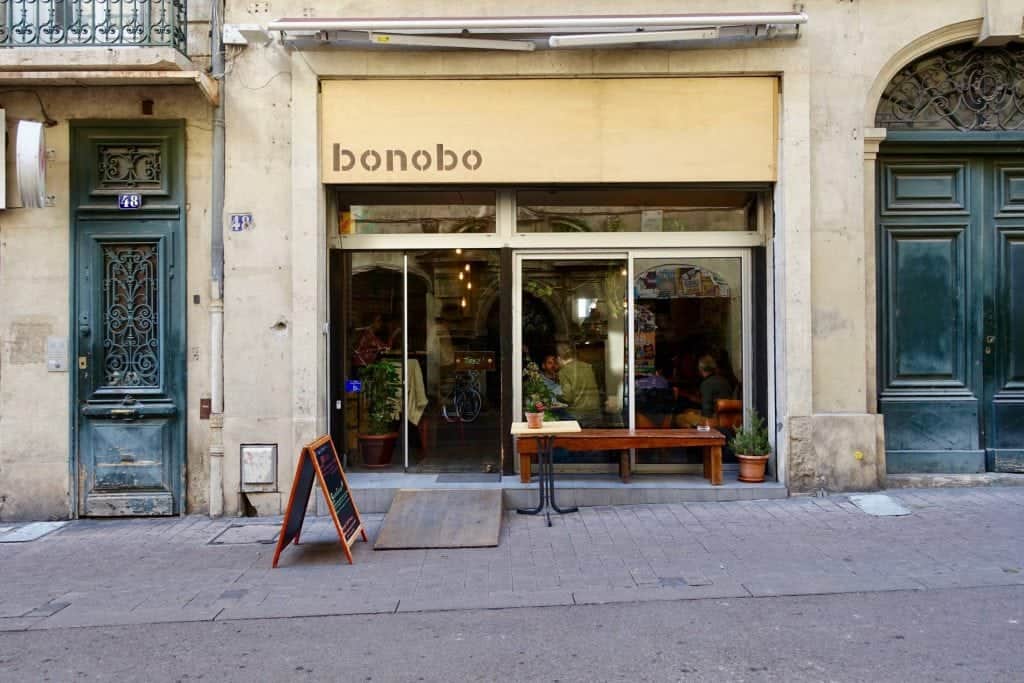 Bonobo is a dimly lit and welcoming café, with lounge chairs in the entrance, hidden bar spots in the back area and greenery hanging all around. Its flair will remind one of a vintage jungle. Nick and Gemma thought of this being the "bigger coffee shop", where people sit more comfortably for a longer time and can also enjoy craft beers or local wines in the evening hours. However, locals started calling in for reservations. Julie and Kevin's cooking skills are probably to thank for that. Julie, recruited from Hollybelly in Paris, together with her Canadian boyfriend cook master cocktail brunches and artisan lunches here.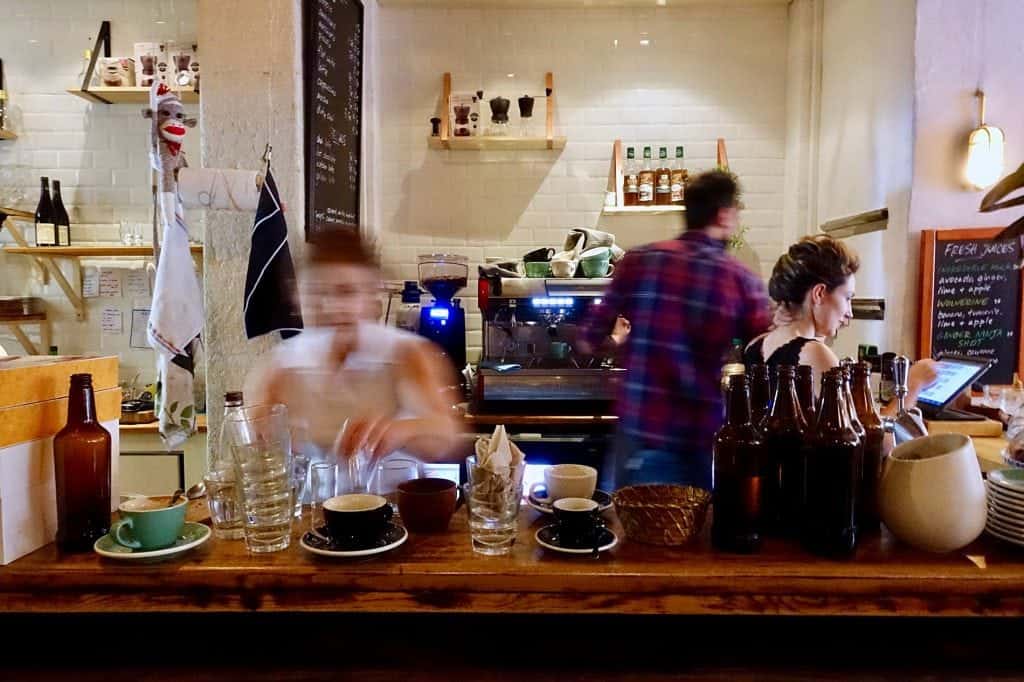 Clearly, Bonobo gets a lot of praise for their meals, but it still remains a spot to check out for specialty coffee. Like at Coffee Club, Bonobo's roasts come from Dominique Tumbuka and vary by the month. The emphasis is on espresso based drinks, which appeal to the French coffee palate as well as selective coffee sippers.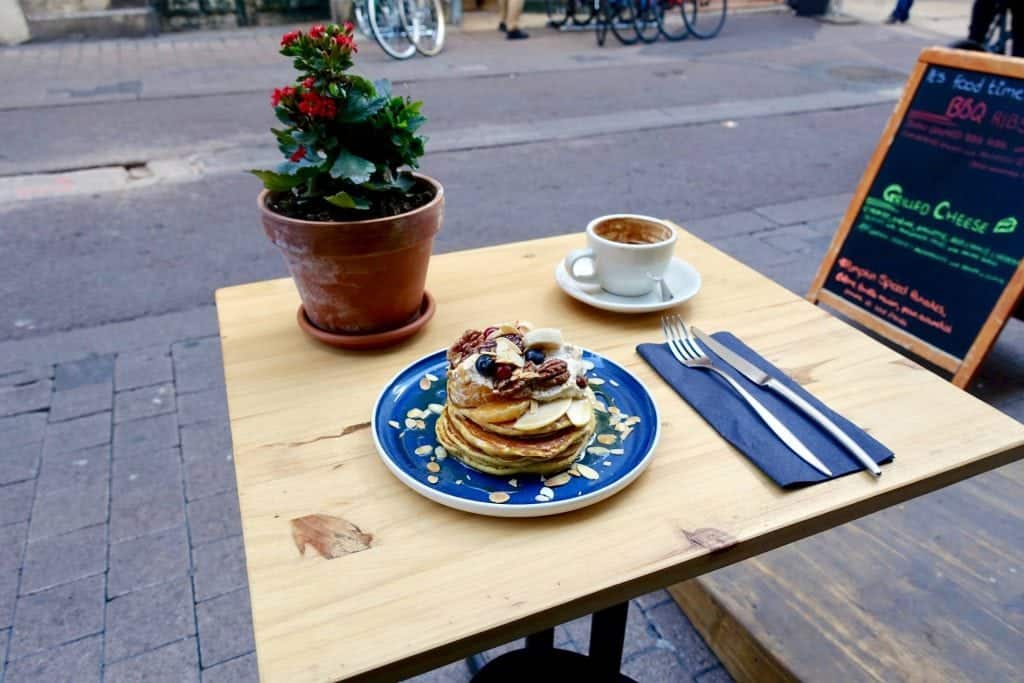 46 rue Saint Guilhem, 34000 Montpellier, France
Facebook, Instagram
Montpellier's coffee scene has a distinct character. You won't have problem with English, unless you ask for Wi-Fi. Despite the lack of it, there will be lots of students working with worksheets and drinking flat whites to keep them awake. You, too, can discover local roaster's beans and immerse yourself in the grounded, homey atmosphere between Montpellier's stone walls that echo diverse accents of English.